Customer Testimonial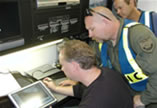 "Where would we be without AgileMesh? Light-years behind. We appreciated working with your team to get our systems in order."
- Officer James

Case Study: SWAT Training
SITUATION:
A SWAT team was conducting semiannual training in Hostage Rescue Tactics at an abandoned manufacturing plant. The limited "office" space at the facility was being used to run "ex-employee returns to the office with a gun" HRT scenarios.
CHALLENGE:
The limited size and amount of "office" space made it very difficult for trainers and evaluators to be "in" the space during the dynamic portion of the operation.
SOLUTION:
Deployment of a single-camera AgileMesh node inside the problem at a central point that had a view of the entry point. Using the remote viewer to manipulate the camera and as a local recording device, instructors were able to see important areas within the structure as well as review movement with the team.
Additional Case Studies:
Regional WMD
Barricade with Hostages
Barricade with Entry
SWAT Training
Special Event Video Coverage
Crime Surveillance
Disaster Drill Coverage

Download a PDF of all of our Case Studies