Featured Product:
AV1510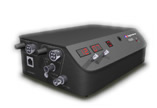 • Non-line-of-sight deployment
• Self-forming and self-healing mesh-based network
• Robust digital video connection
• Easy and rapid configuration
• Self-contained power
• Simple reconfiguration
• Multiple AC and DC power options
READ MORE >>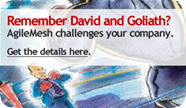 Case Study: Special Event Video Coverage
SITUATION:
A New Year's Eve block party was held in a marketplace area where four bars cooperated to make an entire section available to partygoers. The venue was fenced and patrons were charged admission. Several small, adjoining parking lots were used to provide an area where a small stage was constructed for band performances. The venue, being a street, was very linear, and approximately 12,000 people attended.
CHALLENGE:
To provide effective, efficient public safety services during this event. At peak times it was difficult even to move through the crowd, much less know what was happening in the central area. Since there were few locations in which to station spotters with good vantage points, even deploying spotters on high ground was difficult and of limited value.
SOLUTION:
The AgileMesh Video Node tripod was configured so that the center post protruded down instead of up. The tripod legs were adjusted so that they were completely flat. This transformed the camera into a quickly deployed, independently supported "pendant" type camera, which was suspended in the camera-and-lighting superstructure. Three nodes were deployed in this manner along the street. Another node was placed on high ground but within range of a 300-foot cable run to the nearest city building. With an IP address and subnet change, the signal was pumped into the city's intranet and made available to selected city administrators. As a result, police and fire services were better able to visualize problem areas, direct resources to needed areas and improve officer safety.
Additional Case Studies:
Regional WMD
Barricade with Hostages
Barricade with Entry
SWAT Training
Special Event Video Coverage
Crime Surveillance
Disaster Drill Coverage

Download a PDF of all of our Case Studies