« Back to News & Events
Tracking Down Missing Fairgoers and Reducing Crime at the Largest State Fair in the Country
Wireless Video Surveillance from AgileMesh Serves as the Eyes of Big Tex in Keeping the Annual State Fair Safer for All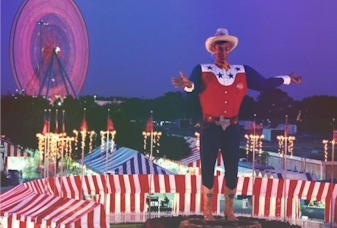 DALLAS, Texas, October 5, 2007 – For the fourth consecutive year, the legendary State Fair of Texas is relying on AgileMesh's Surveillance as a Service™ to protect the four million Texans who will make their annual pilgrimage to Fair Park in Dallas. The 2007 version of the State Fair, which opened on September 28 and runs through October 21, is expecting record attendance again this year.
As all Texans know, the State Fair features both the largest Ferris wheel in North America and the fiercest annual clash between major college football rivals. That football rivalry gets retested each year at the Cotton Bowl, which sits right in the middle of the Texas State Fair. With the number of fairgoers and the amount of cash exchanging hands throughout the nearly 400,000 square feet of fairgrounds, a robust security system is paramount for a successful event.
Because stringing wiring throughout the fairgrounds is simply not an option, the State Fair of Texas has once again engaged AgileMesh, Inc. to install an extensive wireless video surveillance network to monitor everything from traffic patterns coming into the gates to the throngs of visitors strolling the midway. Even Fletchers, the renowned purveyors of corny dogs – the sweetened corn-battered wieners on a stick fried in oil to a perfection – relies on AgileMesh's wireless surveillance system to monitor employees at its six stands throughout the fairgrounds.
Deploying wireless video surveillance at such large events is nothing new for Dallas-based AgileMesh. Their Surveillance as a Service™ has been used in recent years at several PGA golf tournaments, major college bowl games (including the BCS Championship Game earlier this year), large festivals and holiday celebrations, and will even be deployed at Super Bowl XLII next February in Glendale, Arizona. Even while AgileMesh's systems are watching over the State Fair of Texas, 2500 miles away on Long Island, New York, another AgileMesh proprietary video surveillance network is securing the annual Irish Heritage Festival. "This is going to give us a bird's-eye view of what's going on," said Long Beach Sgt. Bill Dodge, as he worked Friday with AgileMesh to set up the mesh network along the parade route and at key locations around the day-long festival. Video feeds from the company's strategically located cameras will be wirelessly streamed to a monitoring station in the police department's mobile command center.
About AgileMesh
AgileMesh, Inc. is a privately held company offering today's most advanced rapidly deployable wireless video surveillance systems. The company also leverages its proprietary technology and networking and video engineering expertise by offering its Surveillance as a Service™ to police departments and event operators. First-responders and homeland security agencies use the AgileMesh systems for tactical surveillance, asset protection, VIP protection, hazmat remediation surveillance, covert operations, construction surveillance and many other applications. Headquartered in Dallas, Texas, AgileMesh has sales and distribution partners throughout the U.S. www.agilemesh.com.
# # #
« Back to News & Events