« Back to News & Events
NASA Dryden Flight Research Center Secures Unique Aircraft with Wireless Video Surveillance from AgileMesh and Firetide
Flexibility and rapid deployment key in asset protection and employee safety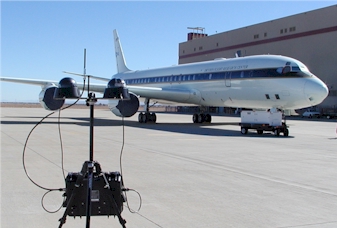 LOS GATOS, Calif., March 18, 2008 – NASA Dryden Flight Research Center at Edwards Air Force Base, Calif., now protects several of its unique, highly specialized research aircraft at its recently acquired satellite facility in Palmdale, Calif., with an equally unique, high-tech wireless video surveillance system. Entrusted with the mandate to procure, design and deploy a security system from the ground up in under 60 days, the center's security department turned to AgileMesh, a provider of rapidly deployable video surveillance, and Firetide, a developer of wireless mesh and access networks. Even with a limited security staff, the center's Dryden Aircraft Operations Facility is now able to protect its multi-million dollar aircraft, while providing valuable evidence for security and safety investigations.
The AgileMesh/Firetide system secures a recently leased hangar that houses NASA's SOFIA (Stratospheric Observatory for Infrared Astronomy) and DC-8 Airborne Laboratory aircraft, both of which are unique in the nation. The rapidly deployable, solar-powered, high-resolution wireless system transmits evidence-grade video from the perimeter of the hangar to the on-site security operations center. The video is monitored in real time; personnel patrolling the perimeter communicate with the operations center and can respond to incidents, such as an unauthorized entry, within seconds.
"Our AgileMesh/Firetide system is an incredible 'force multiplier' for asset protection and employee safety," said William Crews, chief of security at NASA Dryden Flight Research Center. "My team's role is not only to secure the research aircraft, which are high-dollar-value national assets, but also to ensure that the utmost attention to safety procedures is paid by all – be it employees, contractors or visitors. Without the system, I would need to hire six additional personnel to provide 24/7 monitoring. Now I can deliver the same level of security, with the benefit of a permanent video record, with limited staff."
The eight-camera system was set up in less than a day. Using embedded Firetide mesh technology, the AgileMesh units wirelessly transmit video signals to a head-end node located in the security operations center. The video is stored for 30 days for incident review and investigation, and has already provided information leading to improved enforcement of safety procedures. For example, such seemingly trivial oversight as not checking vehicles' tires for debris before entering a flight line may lead to the loss of aircraft, if debris gets into an engine. The biggest deployment challenge came from the unexpected side: how to secure the AgileMesh units to the ground in the high desert, where winds can reach 60 miles per hour (20-gallon water containers, serving as anchors, did the trick).
"The flexibility and rapid deployment of AgileMesh equipment lends itself well not only to emergency situations, but also to asset protection in highly sensitive locations, when time is of the essence," said Joseph Stefan, president and chief executive officer of AgileMesh. "The unmatched throughput that Firetide mesh technology delivers is a great benefit to customers who need high-resolution real-time video for both situational awareness and evidentiary purposes."
The research center is currently deploying a fixed video surveillance system in and around the hangar. Once that system is in place, the AgileMesh units will be used for securing crash scene investigations and during special events, such as air shows at nearby Edwards Air Force Base.
"This deployment for NASA by AgileMesh provides convincing testament to the superior technology and reliability of our mesh infrastructure," said Bo Larsson, CEO of Firetide. "It also validates that real-time wireless video surveillance enabled by Firetide is both economical and practical, putting advanced technology and applications within reach of any agency, enterprise or organization seeking ways to better protect lives and material assets. We are proud to partner with AgileMesh to deliver rapid solutions to the challenges that our customers face."
About AgileMesh
AgileMesh, Inc. is a privately held company offering today's most advanced rapidly deployable wireless video surveillance systems. The company also leverages its proprietary technology and networking and video engineering expertise by offering its Surveillance as a Service™ to police departments and event operators. First-responders and homeland security agencies use the AgileMesh systems for tactical surveillance, asset protection, VIP protection, hazmat remediation surveillance, covert operations, construction surveillance and many other applications. Headquartered in Dallas, Texas, AgileMesh has sales and distribution partners throughout the U.S. www.agilemesh.com.
About Firetide
Firetide is the leading provider of wireless mesh and access networks that enable concurrent video, voice, and data for municipal, public safety, and enterprise applications. Firetide HotPort® mesh nodes and HotPoint® access points provide a reliable high performance wireless infrastructure and access solution for video surveillance, Internet access, public safety networks and temporary networks wherever rapid deployment, mobility and ease of installation are required. Headquartered in Los Gatos, Calif., Firetide is a privately held company with worldwide product distribution. www.firetide.com.
# # #
« Back to News & Events