« Back to News & Events
Start Your Engines! NASCAR Crowds Protected with Wireless Video Surveillance from AgileMesh and Firetide
Together Maricopa County Sheriff's Office and Glendale Police Department deploy portable surveillance system at special events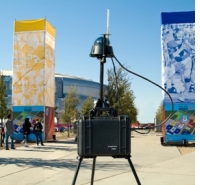 GLENDALE, Arizona, May 28, 2008 – To assist in protecting crowds during the 2008 NASCAR Sprint Cup Series event at the Phoenix International Raceway, the Glendale Police Department reached once again for a high-tech wireless video surveillance system from AgileMesh, a provider of rapidly deployable video surveillance, and Firetide, a developer of wireless mesh and access networks. Even without extra "boots on the ground," Maricopa County Sheriff's deputies were able to see everything that was happening as it occurred. The portable surveillance system wirelessly transmitted broadcast-quality video to the Glendale PD mobile command center on the raceway grounds, where video streams were monitored in real time to enable immediate response to incidents.
The AgileMesh/Firetide system is an indispensable tool in the Glendale PD arsenal to serve and protect the public during major events. Prior to the NASCAR race week, the Glendale PD used the system to secure Super Bowl XLII activities at the University of Phoenix Stadium during the game itself and in the preceding week. The rapidly deployable, portable system filled coverage gaps where fixed surveillance was blocked by temporary structures, or where extra sets of "digital eyes" were required to monitor crowds entering the NFL Experience theme park adjacent to the stadium.
"When tens of thousands of visitors pour into a main venue and the surrounding neighborhoods, the public safety challenges grow exponentially," said Mitch Kelsey, special operations supervisor, Glendale PD. "A wireless system enables us to be proactive. The ability to deploy cameras rapidly, in the exact locations required, greatly improves our ability to respond to incidents effectively and prevent them from escalating. A temporary system also allows us to test out camera sites, and we often end up deploying permanent surveillance cameras once a vantage point has proven critical."
The preparation for any event on the scale of a NASCAR race or the Super Bowl involves months of planning and coordination with various stakeholders – police, fire, municipal and county government, Homeland Security, event organizers and commercial security at privately owned facilities. The security teams play out various scenarios – from public drunkenness, to a drive-by shooting, to a fatal traffic accident that would close a major intersection – to ensure that the teams are ready for any eventuality. The ability to integrate portable, real-time video surveillance into the larger picture provides 100 percent public safety coverage, without gaps or blind spots."
Firetide wireless mesh is the ideal technology for situations when time or environmental constraints make laying cable impossible," said Joseph Stefan, president and chief executive officer of AgileMesh. "The network provides unmatched throughput for bandwidth-intensive applications, a great benefit to public safety agencies that need high-resolution, real-time video for both situational awareness and evidentiary purposes."
Police departments and commercial security customers can quickly assemble the portable, self-powered system. The AgileMesh/Firetide units are supported by a heavy-duty tripod and include a single- or dual-dome camera. The camera has full pan, tilt and zoom capability and a 23x optical-zoom lens. Two levels of encryption ensure that the signal is completely secure.
"This deployment by Glendale PD supporting the NASCAR race provides convincing testament to the superior technology and reliability of our mesh infrastructure," said Bo Larsson, chief executive officer of Firetide. "It also validates that real-time wireless video surveillance enabled by Firetide is both economical and practical, putting advanced technology and applications within reach of any public safety agency. We are pleased to partner with AgileMesh to deliver rapid solutions to the challenges that our customers face."
About AgileMesh
AgileMesh, Inc. is a privately held company offering today's most advanced rapidly deployable wireless video surveillance systems. The company also leverages its proprietary technology and networking and video engineering expertise by offering its Surveillance as a Service™ to police departments and event operators. First-responders and homeland security agencies use the AgileMesh systems for tactical surveillance, asset protection, VIP protection, hazmat remediation surveillance, covert operations, construction surveillance and many other applications. Headquartered in Dallas, Texas, AgileMesh has sales and distribution partners throughout the U.S. For more information, visit www.agilemesh.com.
About Firetide
Firetide is the leading provider of wireless mesh and access networks that enable concurrent video, voice, and data for municipal, public safety, and enterprise applications. Firetide HotPort® mesh nodes and HotPoint® access points provide a reliable high performance wireless infrastructure and access solution for video surveillance, Internet access, public safety networks and temporary networks wherever rapid deployment, mobility and ease of installation are required. Headquartered in Los Gatos, Calif., Firetide is a privately held company with worldwide product distribution. www.firetide.com.
# # #
« Back to News & Events