« Back to News & Events
AgileMesh supports Joint Terror-Attack Training Exercise - Orlando, FL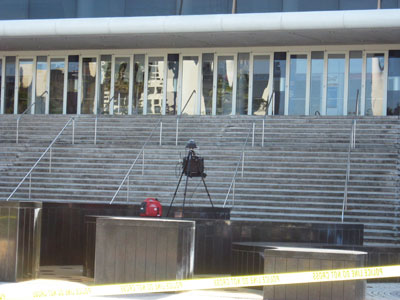 AgileMesh Rapidly Deployable Wireless Video Surveillance solutions played a key role in supporting the joint training day involving the Orlando Police Department, Orlando Fire Department, Orange County SWAT, Emergency Services, several hospitals and Homeland Security.
None of the teams knew what to expect. They were given a scenario and had to respond to it. And practicing real emergencies required fake victims. There were several volunteers from the Central Florida area who played the parts of victims and terrorists. The event was staged at the old Amway Arena in downtown Orlando; former home to the NBA's Orlando Magic.
Several vehicles from both the Orlando Police Department and Orange County Sheriff's Office are equipped with AgileMesh nodes that receive video from the rapidly deployed camera stations that were set up inside and outside the arena. The command staff located in several different areas were all able to simultaneously view and watch live video of the SWAT team storming the interior. Not only can the command staff watch the video, they have the ability to PTZ (pan-tilt-zoom) the cameras and all action can be recorded for playback.
« Back to News & Events